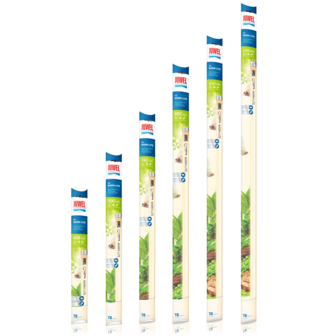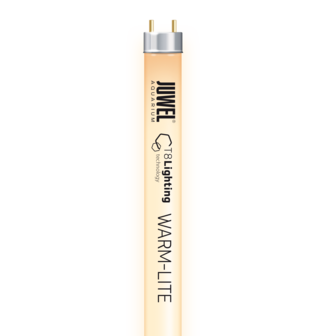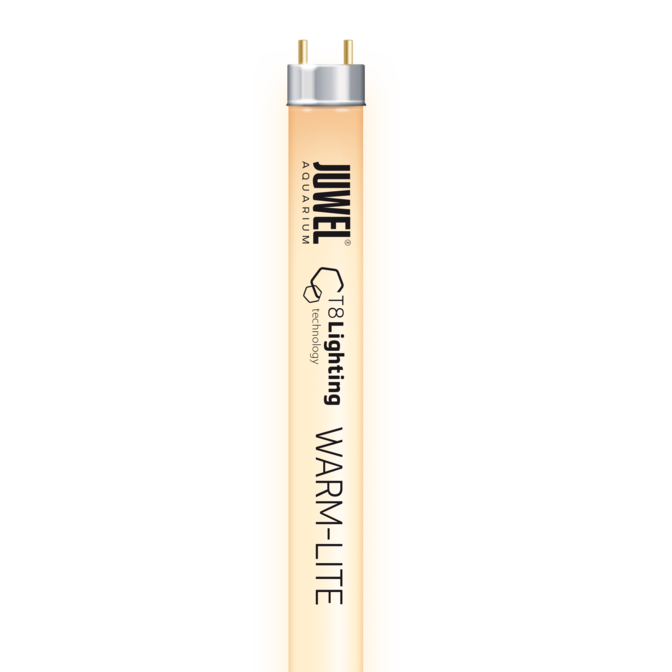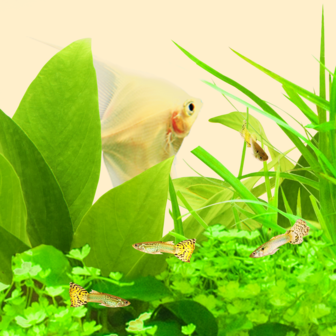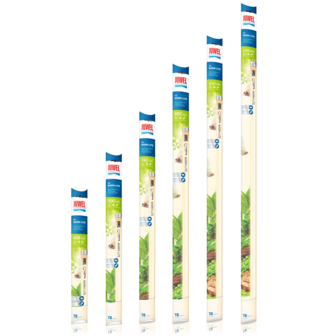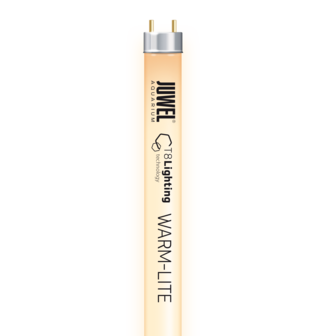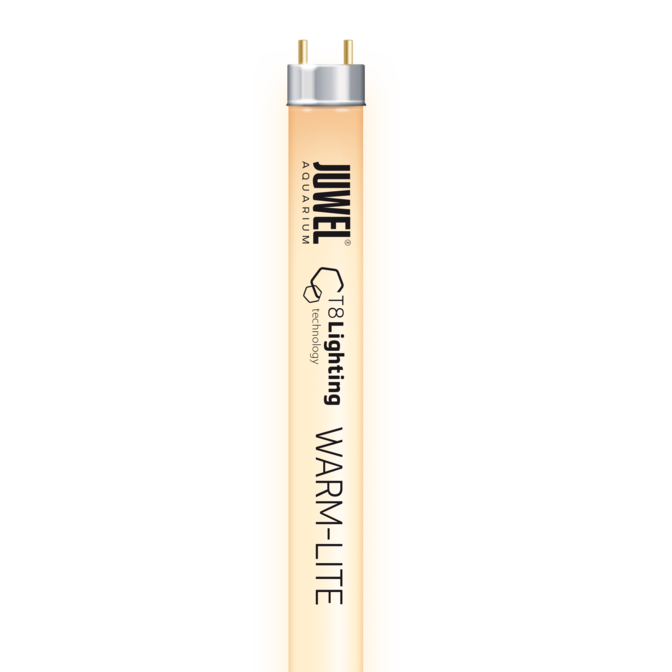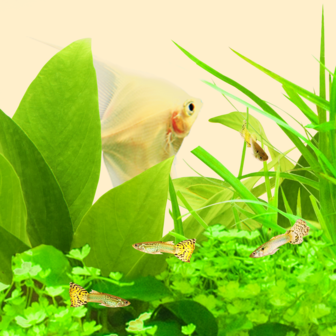 Warm-Lite T8
The special Warm-Lite light spectrum promotes plant photosynthesis, whilst highlighting the green colours in your aquarium.
Characteristics
Warm, natural light
Natural colour effect with 3000 Kelvin
Promotes the growth of tall-growing plants
Ideal for use in conjunction with JUWEL Day-Lite
Spectrum: A to G
Available Sizes
Warm-Lite T8 438 mm/15 W
Suitable for you
Warm-Lite T8
Suitable for you
Warm-Lite T8 895 mm/30 W
Suitable for you
Dealer Locator
Product Details
The Juwel Warm-Lite T8 fluorescent tube creates a warm and natural light. The special Warm-Lite light spectrum promotes plant photosynthesis, whilst highlighting the green colours in your aquarium.
When used in conjunction with the JUWEL Day-Lite, the Warm-Lite is perfect for creating a complete sun spectrum.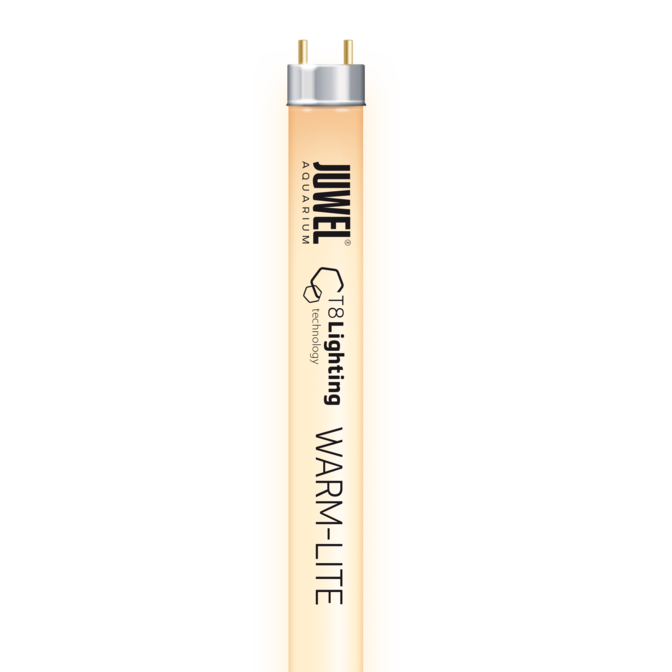 Technical Data
Product Code

86215

Energy Class

G

Length

438 mm

Power

15 W

Lumen

630

Kelvin

3000
As the commercially available standard T5 tubes were only developed for general room illumination purposes, the lighting technology had to be adapted to the common aquarium dimensions in order to ensure the complete illumination over the entire length of the aquariums. As a result, we are able to completely illuminate the entire area of our aquariums with lengths of 60, 80, 100, 120 and 150 cm with high illumination.

To ensure waterproofness of your JUWEL aquarium light unit, we recommend that the fitting rings are replaced once a year. When using a T8 or T5 light unit, the fluorescent tubes should also be replaced on this occasion.

The MultiLux LED features a higher light intensity while saving up to 50 % of energy compared to conventional T5 technology. Further advantages of the MultiLux LED include a longer service life of the LED tubes, and durable light quality compared to T5 fluorescent tubes.

The T8 fluorescent tubes should be replaced every 10 to 12 months, to ensure the tubes' luminosity. The HiLite T5 fluorescent tube should also be replaced every 10 to 12 months, with the exception of the HiLite Marine and the HiLite Blue. Those two models should be replaced more frequently, every 6 to 8 months.

It is not possible to replace a T5 HiLite fluorescent tube with an LED tube. The MultiLux light units may look identical, however, they feature different integrated control units for the fluorescent tubes' ignition voltage. Each control units is designed for the specific light unit. If you would like to change to LED operation, you should buy a designated MultiLux LED light unit or a HeliaLux light unit. Both products are a perfect match for your aquarium and they are quick and easy to install.

Each JUWEL aquarium of the model series Lido, Rio, Vision and Trigon is equipped with a MultiLux LED comprising an LED DAY and an LED NATURE as standard. This provides for brilliant lighting and excellent plant growth. The replaceable tubes create an optimum light spectrum, while saving up to 50% of energy compared to conventional T5 light units. While the LED DAY highlights your animal and plant world with its bright and stimulating light, the LED NATURE provides for a warm and natural light that promotes photosynthesis of your plants and brings out the green tones in your aquarium.

We recommend the use of reflectors for T5 and T8 fluorescent tubes for two reasons: Reflectors increase the illumination by 100% which is particularly positive, especially in case of plant aquariums. In addition, they serve in a very convenient manner as a visor which simplifies the maintenance of the aquarium a great deal. All steps in the aquarium may be performed in a more successful and comfortable manner under full illumination. LED light units (such as the MultiLux LED, NovoLux LED, HeliaLux LED, HeliaLux Spectrum) do not require reflectors. The LED light units are already optimally adjusted to the aquariums and they have an ideal beam angle.

As the plants prefer stable light conditions, the lighting cannot be switched on in different steps.

No, you can only use T5 HiLite tubes in a T5 HiLite light unit as these are fitted with special electronic ballasts and have the correct special sockets for the tubes. T5 and T8 are not interchangeable.

The spectrum of the T5/T8 fluorescent tubes or the LED lighting media is printed on the respective packaging and you can also find it in the image gallery on the product page.

Any JUWEL Aquarium that utilises a Multilux light unit (central black bar), i.e. all aquariums of the series Lido, Rio, Vision, Trigon, Panorama and Delta, may be converted by simply replacing the old light unit with a new T5 HiLite version.
Fluorescent Lamps
T8 Tubes